digicoinmart and Nansen look at some of the most exciting events in the NFT space — from NASA astronaut launching NFTs to support Ukraine to scammers promoting fake NFT airdrops.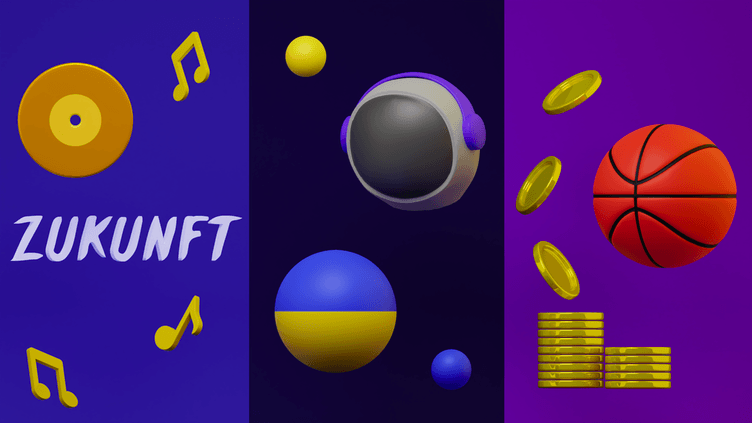 While the profits from one successful NFT can change your life forever, clicking the wrong link can instantly drain your life savings. NFT scams are still in full swing as malicious actors look for new ways to swindle investors.
Away from NFT scams, the Bored Ape Yacht Club ecosystem has continued to expand. While one owner launched a BAYC-themed restaurant on Saturday, Coinbase is set to produce an animated series featuring Bored Apes.
Here's a rundown of some top NFT news over the past week.
Enter your email address
Subscribe
Join us in showcasing the cryptocurrency revolution, one newsletter at a time. Subscribe now to get daily news and market updates right to your inbox, along with our millions of other subscribers (that's right, millions love us!) — what are you waiting for?
RAF Camora Taps on NFTs to Give Fans Exclusive Access to His "ZUKUNFT Gold Records"
Following the success of his ZUKUNFT album in 2021, Austrian rapper RAF Camora is back to thrill fans with a whole new experience. Dubbed "Planet," the artist will be releasing 5555 unique NFTs to celebrate the gold status of his album.
On July 16, 2021, Raphael Ragucci, known professionally as RAF Camora, released his seventh solo album titled "ZUKUNFT" (translated as "future" in English). The album became an instant hit, with some labeling it the biggest comeback in the history of German rap. In no time, RAF landed at the top spot on the album charts in Germany, Austria, and Switzerland, with several single releases from the collection bagging gold and platinum statuses.
Interestingly, in just a few months, the entire album of 14 songs has now officially reached an all-gold status. Commenting on the new development, RAF told fans:
"Going gold is an honor! Time and time again, no matter how many times you've experienced it.A gold record is something you can't buy, neither as an artist nor as a fan. But I want my fans toshare in this success and I've planned a project with my guys to give every fan a piece of 'gold'to take home."
RAF was obviously making reference to his new NFT project when he talked about giving every fan a "piece of gold to take home." The rapper is adding some musical framework to the collection, dedicating a song to the project meant to celebrate the gold status of "ZUKUNFT." The song, along with the "Planet" NFT collection, is scheduled to drop on April 22.
As per announcements, the NFT features the official ZUKUNFT Gold Record in a digital form, in addition to a certificate of authenticity. Apart from being able to download the "Mein Planet" song, some holders will be able to get physical gold plaques. Other perks include a badge that will function as a certificate of authenticity that gives holders access to closed community meetings with the artist.
NASA Astronaut Launches NFTs to Support Ukraine
Retired NASA astronaut and crypto enthusiast, Scott Kelly, has become the latest public figure to jump on the NFT bandwagon. Kelly, who spent nearly a year at the International Space Station from 2015 to 2016, has released a series of NFTs to support relief efforts in war-torn Ukraine.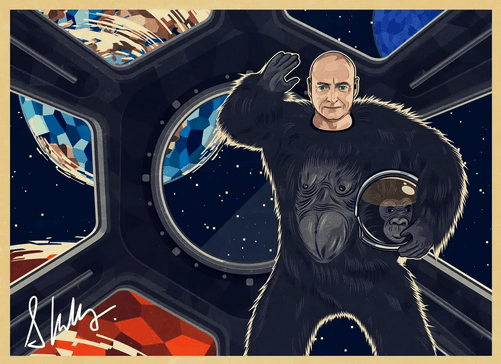 Titled "Dreams Out of This World," the collection was launched on Monday to mark the International Day of Human Space Flight. The 3,333 digital collectible artworks are also available to purchase on OpenSea, with each piece depicting an image of the astronaut in different locations and with several visual attributes. Speaking to reporters, Kelly said:
"I'm a big believer in technology. I was really interested in cryptocurrencies and the blockchain—not early enough, but at least the last few years […] I just look at this form of technology as another way to explore. In this case, it's exploring the metaverse and virtual worlds."
Describing his NFT collection, Kelly said that "they're digital representations of the dreams and the thoughts I've had when I was in space." Meanwhile, all net proceeds from the sale will go to the Global Empowerment Mission, a nonprofit that is currently providing aid in Ukraine amid its ongoing crisis with Russia.
Apart from the standard NFT drop of 3,333 collectibles, Kelly will also hold three auctions for single-edition pieces that will be accompanied by real-life space gear and memorabilia. One of the items paired with one of Kelly's worn spacesuits will start at 3 ETH (about $9,150), another with space globes will start at 2 ETH ($6,100), and the third which has his command cap will start at 1 ETH ($3,050).
Taking a look at Nansen's dashboards, we see that volume peaked when the collection launched, hitting highs of 125 ETH as 1-hour volume, with over 2,000 transactions and ~850 unique buyers.
There are over 1,600 unique addresses holding the NFTs where 68% of them are only holding 1 NFT. While it's still too early to form any conclusive statements, these are interesting metrics to keep an eye on to get a sense of how optimistic/pessimistic the holders are in time to come.