Lindsay Lohan allegedly charges $35,000 for a "package deal" including two tweets and a retweet — but she is yet to publicly comment on the claims.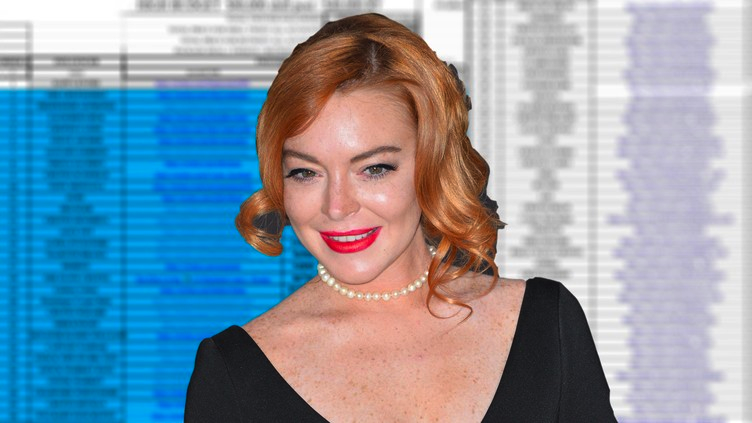 A new list has emerged that appears to show how much major influencers charge to promote crypto projects.
The spreadsheet was shared by self-styled "on-chain sleuth" @zachxbt — and features the American actress Lindsay Lohan.
CoinMarketCap has been unable to verify whether the pricings included on this document are real — and there's no suggestion that any of these influencers are breaking the law.
Many countries require high-profile social media users to include the #ad hashtag whenever they are being paid for a promotion — a practice that Lohan has followed on previous accounts.
Lohan has previously tweeted about the performance of cryptocurrencies including Bitcoin and Ether — and has launched her own collection of non-fungible tokens. CoinMarketCap has approached the star for a comment.
According to the spreadsheet, Lohan charges $25,000 for a shill tweet and $20,000 for a retweet — or $35,000 for a "package deal" that includes two tweets and one retweet.
This makes her the most expensive influencer on this list — a revelation that's perhaps unsurprising given how she has more than 8.2 million followers on Twitter.
Others charge far less for a promotion. One of them, Dapp Centre, sought to play down the claims… and said he is transparent about how much he charges, tweeting:
"All you had to do is DM me for my prices man, I would have told you … #AD = paid promotion."
In a follow-up tweet, he added:
"All respects to @zachxbt for bringing transparency and accountability to crypto! There are a lot of scammers and bad characters out there.. and if you're in this space long enough you will likely become a victim of a scam at some point. It's a problem and it needs to be addressed!"
A Murky World
After posting the tweet on Monday, @zachxbt alleged that "the vast majority" of names on the list perform "undisclosed shills" — meaning followers wouldn't be aware that they had been paid to post.
Advertising regulators have reacted with alarm to the rise in crypto marketing campaigns seen on social media, amid concerns that they trivialize investing large sums of money and fail to fully disclose the dangers associated with investing in volatile assets.
Questions have also been raised on how much due diligence these influencers perform on the crypto projects they promote — even if they do make clear that their tweets are advertisements.
As reported by CoinMarketCap, Spain recently unveiled an innovative new law that targets influencers — meaning they'll have to contact the National Securities Market Commission if they're planning a mass advertising campaign that targets at least 100,000 people… 10 days in advance.
The fine for failing to comply with the rules could be as high as $340,000.
Last year, the Financial Conduct Authority in the U.K. criticized celebrities who promote "untested" cryptocurrencies — and singled out Kim Kardashian West for her endorsement of Ethereum Max.
She posted about the altcoin on her Instagram page, which had 250 million followers at the time, and FCA chairman Charles Randell said it "may have been the financial promotion with the single biggest audience reach in history."